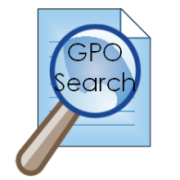 NIT-GPOSearch is a free tool to search in the Group Policy (admx, adml) definitions for a specific setting. New in Version 1.2 - search in the domain template definitions.
Can you once again the settings for loopback not find? Here is the solution. NIT GPOSearch is a tool that run on any desktop or server from Windows 7. on request, of some users now also as ZIP archive
Features:
Culture Detection (allways search in en-US and in the own culture adml files)
Display the registry keys for a policy
Fast search
Limitations:
Only one search term
Only Search in "C:\windows\PolicyDefinations"
Admx and adml files need to be installed on the same system!
Installation Requirements:
| | |
| --- | --- |
| | Windows 7 (32 /64 bit ), Windows 8/8.1 (32/64 bit), Server 2008/R2/2012/R2 |
Licence:
This program is copyrighted material. It may only be downloaded from the links I provide. You can download it to use, if you want to do. For anything else, you have to ask me first.
DISCLAIMER: USE AT YOUR OWN RISK. NICK INFORMATIONSTECHNIK CAN NOT BE HELD LIABLE UNDER ANY CIRCUMSTANCES FOR DAMAGE TO HARDWARE OR SOFTWARE, LOST DATA, OR OTHER DIRECT OR INDIRECT DAMAGE RESULTING FROM THE USE OF THIS SOFTWARE.
copyright © 2014 Andreas Nick / Nick Informationstechnik GmbH
Historie
Version
New
1.1

Search in the domain admx definitions:
\\domain.local\SysVol\domain.local\Policies\PolicyDefinitions

Fixed Size for the discription

logical arrangement of data fields
Downloads:
Version 1.1
Add Domain search feature
Version 1.2
Some Bugfixes. work now with poth 4.0 and 5.0
Erstelldatum
Montag, 17. Februar 2014 10:39
Änderungsdatum
Dienstag, 20. Oktober 2020 14:59
Erstellt von
Andreas Nick
Geändert von
Andreas Nick
Lizenz
Nick Informationstechnik Tool Licence

Erstelldatum
Donnerstag, 02. Juni 2016 21:20
Änderungsdatum
Donnerstag, 02. Juni 2016 21:23
Erstellt von
Andreas Nick
Geändert von
Andreas Nick
Lizenz
Nick Informationstechnik Tool Licence